TAVALON TEA Announces 2023 Holiday Gifting Ideas Including Luxury Boxed Tea Sets and More

FOR IMMEDIATE RELEASE 
TAVALON TEA ANNOUNCES 2023 HOLIDAY GIFTING IDEAS, INCLUDING LUXURY BOXED TEA SETS AND MORE 
NEW YORK, Nov. 8, 2023 /PRNewswire/ – Tavalon Tea, a luxury, high-end global tea brand based in New York City, is thrilled to announce a full slate of holiday gifting ideas for families and businesses worldwide. Tavalon features the best tea blends handcrafted from a selection of single-origin tea leaves that are sustainably harvested and perfectly suited for all brewing types. 
All of Tavalon's products are rooted in the company's commitment to exceptional quality and taste, and every blend goes through rigorous taste testing before the tea flavor is released to the market.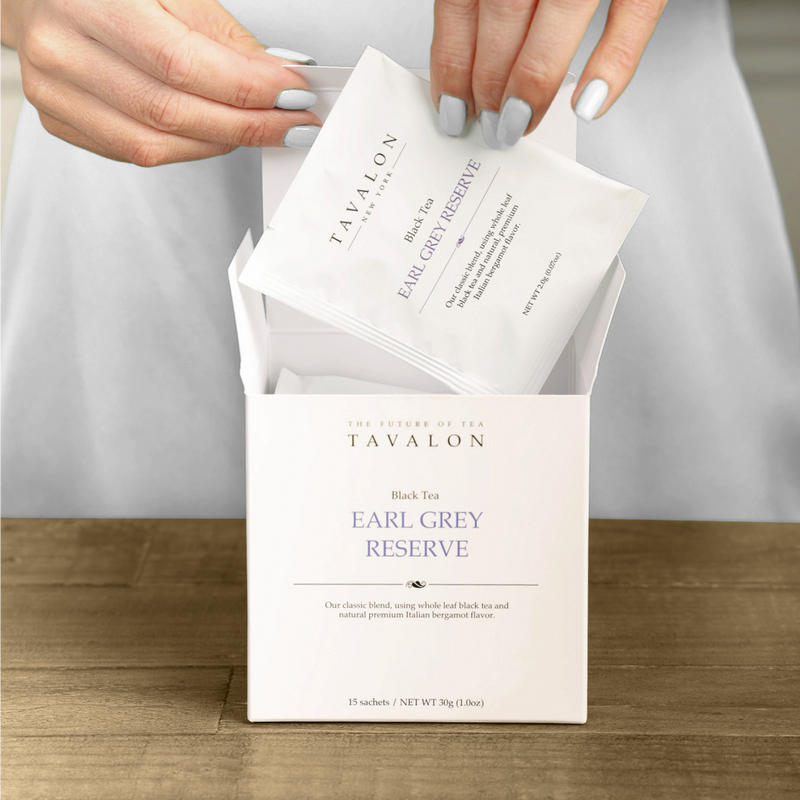 The internationally acclaimed luxury tea brand has cultivated flavors for every palette while attracting tea lovers from every background, including connoisseurs and novices. Tavalon's teas provide a luxurious and festive experience to make every day feel special when you sip some of the finest tea blends in the world. 
Tavalon was founded in 2005 by CEO John-Paul Lee, and nearly two decades later, the brand has blossomed into a premier tea brand with an international audience, featured at exclusive hotels, Michelin-starred restaurants, gourmet cafes and eateries and inside the homes of thousands of people. 
Tavalon's tea bags are non-GMO and made from 100% biodegradable and bioactive compounds derived from renewable resources like corn starch, cassava roots, chips, starch and sugarcane. 
"Tavalon is the future of tea, and our vision with the company is to showcase premium tea in a fun, young, sexy, healthy and accessible way," Tavalon CEO and Founder John-Paul Lee said.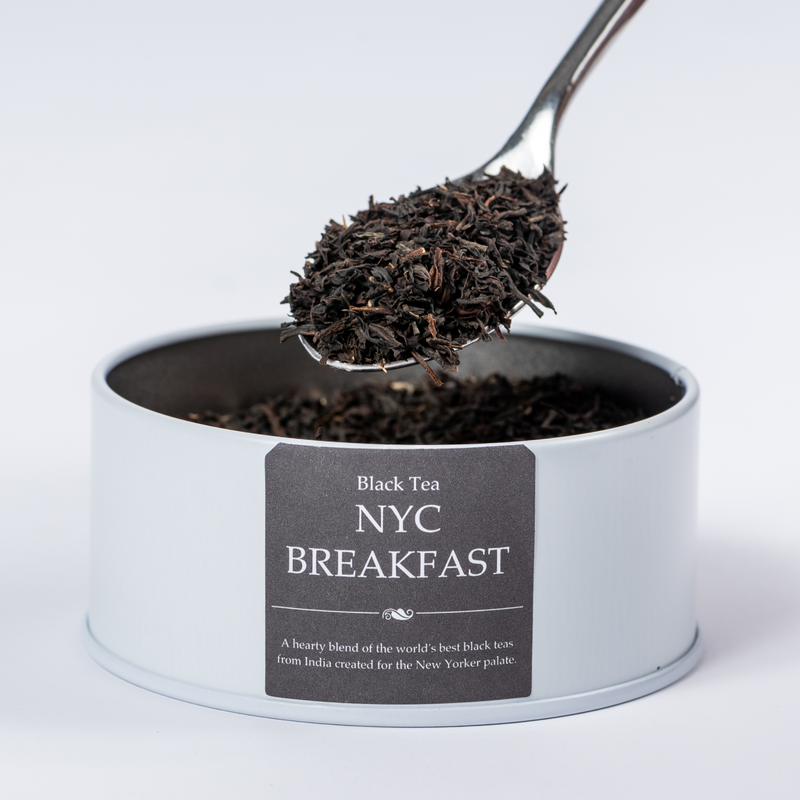 "Tea is the second most widely consumed beverage in the world, and we have worked hard to create blends for health-conscious people by featuring the best-of-the-best ingredients in eco-friendly packaging. We have taken strategic steps to be the leader in our category through innovation, passion and quality products." 
Tavalon has helped compile a holiday tea wish list to help you 
impress family members, business associates and those who come to your home. From gourmet teaware and boxed tea sets to distinct loose-leaf blends – there's something for everyone. 
Complementary shipping is available in the United States for orders over $100. 
"Now is the time for tea," Lee explained. "Tea has been around for a long time, but it's a growing trend and more popular than ever with men and women alike. So the question is, why now? It's because we have the medical industry behind us, and doctors are coming out every day and saying how tea is good for you; tea polyphenols are an effective antioxidant that can prevent and treat diseases in the body, and tea has a bunch of good qualities for anti-aging and digestion. Tavalon also has sexy products, and tea is no longer considered your grandmother's beverage when you are sick. So that's why we have seen a major shift, especially with men, in recent years. They're not afraid. Tea is not an Asian product, tea is not a feminine product, tea is not an older person's drink. Tea is fun, tea is healthy, and tea is the future, and that's why Tavalon's motto is 'the future of tea.'" 
TAVALON'S GIFT GUIDE 
VARIETEA T12 ($45) and T24 ($75) GIFT SETS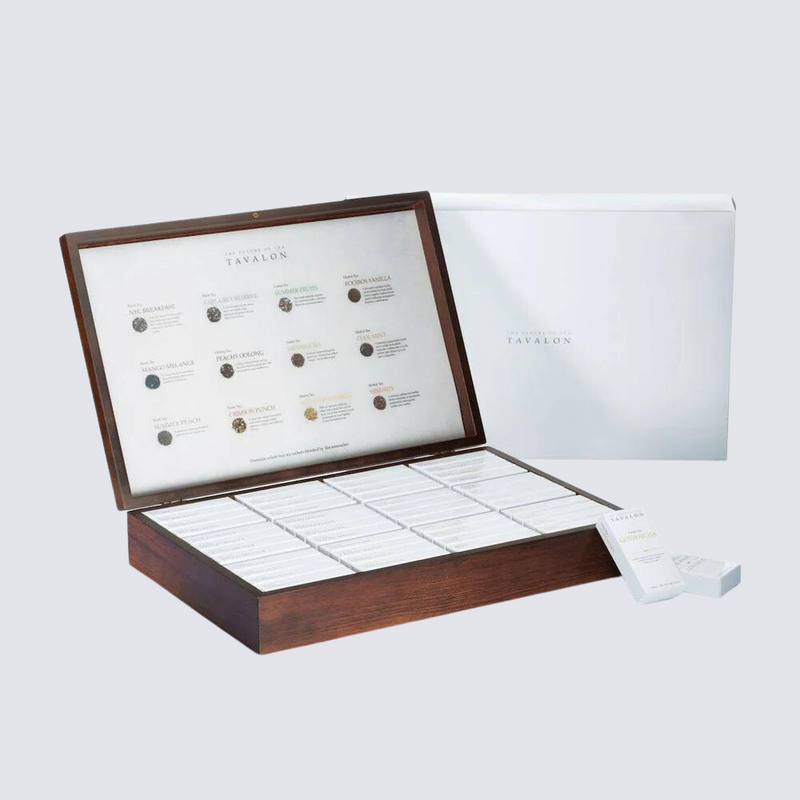 Indulge in a world of unique flavors with our tea collection, featuring 12 exquisite blends sourced from the finest tea around the world. Each blend is carefully crafted to create a unique taste experience that is sure to tantalize your taste buds and leave you feeling relaxed and refreshed. Share the love of tea with friends and family, or indulge in a tea-tasting journey all on your own. 
An opus of exquisite tea craftsmanship! Inside, nestled within this beautifully crafted wooden chest, you'll find a mesmerizing assortment of 12 of our best tea flavors, each thoughtfully curated to offer a diverse and delightful tasting journey. With 4 packets of each flavor, totalling 48 packets, this gift set is a true homage to the art of tea.
Using direct immersion brewing technology, our Gravity Teapot fully submerges tea leaves in hot water, allowing for a more full-bodied and flavorful cup of tea. The infusion process is gentle and even, ensuring that every sip of tea is perfectly balanced and delicious. Crafted with high-quality, heat-resistant materials, it allows for precise control over brewing time and temperature, further enhancing the flavor 
and aroma of the tea. The ultimate solution to eliminate clunky tea balls, paper filters, and plungers. Brewing the perfect cup of tea has never been easier or more enjoyable. 
The capacity of the teapot is 16oz (500ml).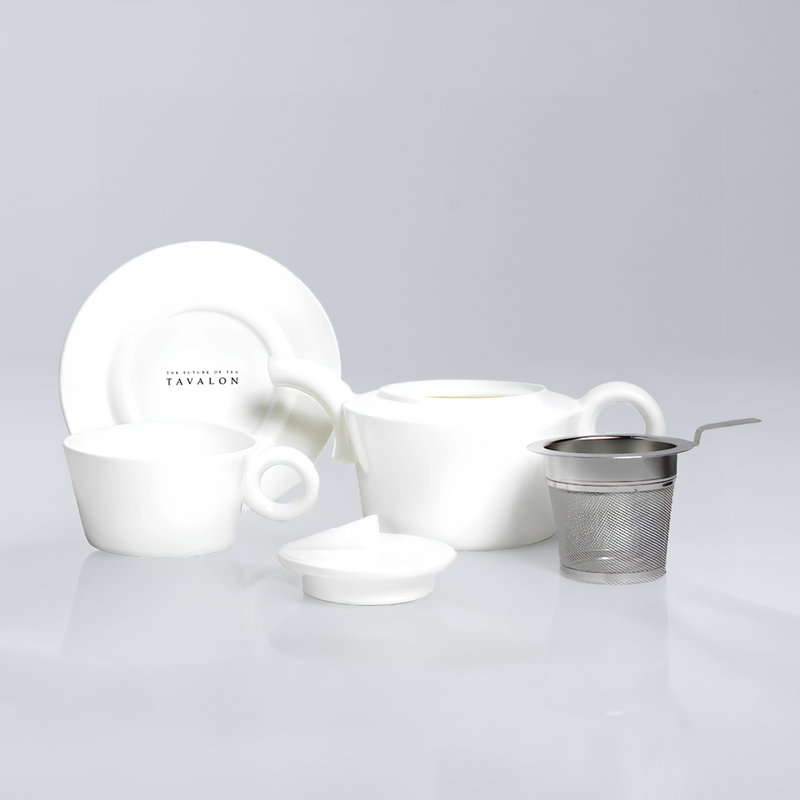 Presenting the Rondi for One Set—seamlessly merging elegance with practicality for your tea moments. Included in this set are a 13.5oz teapot a 6.7oz matching cup and saucer, both crafted from quality porcelain. The teapot features a removable stainless steel infuser, ensuring a hassle-free tea brewing process. Whether for personal indulgence or as a thoughtful gift, the Rondi for One is a testament to the art of enjoying tea. Its minimalist yet tasteful presence elevates the tea-drinking experience, making it a must-have for tea aficionados and a delightful gesture for those in your circle. Capacity: 13.5oz teapot. 
LOOSE LEAF TEA COLLECTION | $35-$45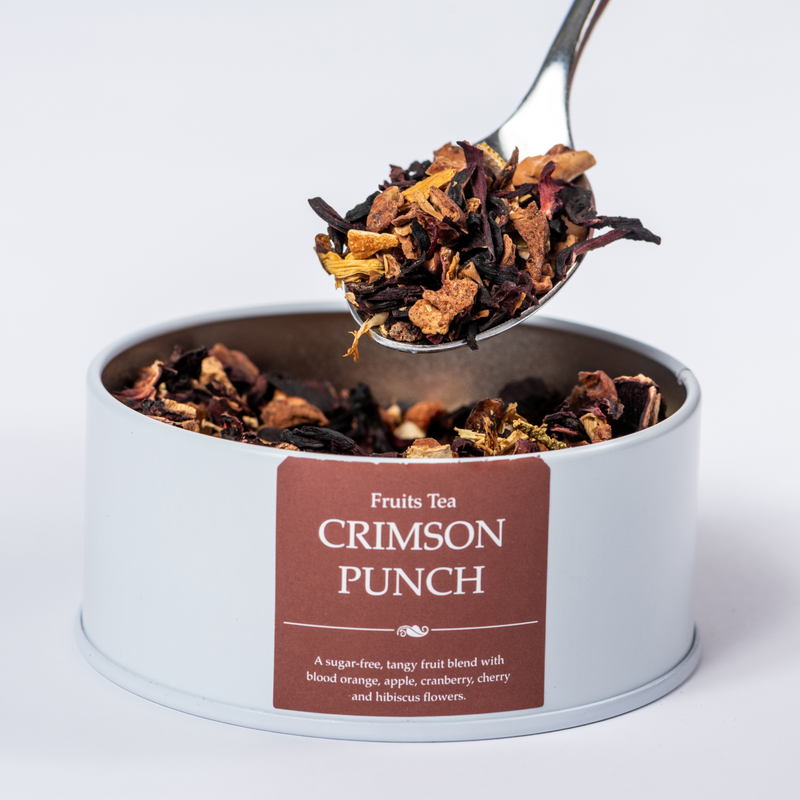 ❖ NYC Breakfast: Bright, Peppery, Malty, Hearty 
❖ Crimson Punch: Fruity, Tangy 
❖ Serenity: Sweet: Minty, Fruity 
❖ Rooibos Lemon: Mild, Sweet, Fruity 
❖ Jasmine Pearls: Floral, Sweet 
❖ Genmaicha: Nutty, Vegetal 
❖ Peachy Oolong: Fruity, Nutty, Floral 
❖ Earl Grey Reserve: Lively, Citrus 
❖ Cool Mint: Minty, Menthol
TAVALON TEA BAGS | 15 TEA BAGS | $35-40 
Tavalon Soilon® Tea Bags are curated NON-GMO, 100% biodegradable Poly Lactic Acid (PLA), bearing no trace of micro-plastics and leaving no environmental footprint. 
❖ Great White: Light, Floral, Sweet 
❖ Crimson Punch: Fruity, Tangy 
❖ Serenity: Sweet: Minty, Fruity 
❖ NYC Breakfast: Bright, Peppery, Malty, Hearty 
❖ Earl Grey Reserve: Lively, Citrus 
❖ Jasmine Pearls: Floral, Sweet 
❖ Genmaicha: Nutty, Vegetal 
❖ Peachy Oolong: Fruity, Nutty, Floral 
ABOUT TAVALON 
Tavalon is one of the world's fastest-growing luxury tea brands, with devoted customers all over the globe. The company was founded by John-Paul Lee in 2005. Lee, then a management consultant at Accenture, saw a business opportunity in tea while residing in Europe. Upon returning to the United States, Lee brought a seed of inspiration with him and launched Tavalon with co-founder Sonny Caberwal. The two noticed a void in the luxury tea market in the United States, and after three years of planning, they left the corporate world to launch Tavalon Tea. The business quickly grew and continues to thrive in the e-commerce space. Currently, Tavalon Tea is available in over 8500 high-end restaurants, spas, hotels, and corporations. The company entered the international market in 2008 with its first subsidiary office opening in Seoul, South Korea. Since then, Tavalon has launched subsidiaries in major cities around the world. 
Media Digital Assets: Click here. 
Media Contact | Tamara Jolee: tamara@joleemediagroup.com